Two weeks ago, I was honored to hold my first solo book signing event for Beautiful Addictions! It took place at Barnes & Noble Citiplace in Baton Rouge, Louisiana (my hometown). During the days leading up to the signing, I was distracted by attending the Romance Writers of America convention in San Antonio, TX. Overwhelmed by the people, education, networking, and socializing during the conference, I had little time to worry about the signing. Somehow, worries crept into my subconscious and I dreamed that no one showed up except a mariachi band and two guys dressed as Thor. I blame you, San Antonio, and late night television.
On Sunday, June 27th at 3 PM. I sat at a small table near the front of the store to begin the signing. By this point, so many people had lined up, that they were blocking the store's entrance. So, the lovely folks at B&N moved me to a larger area and set up some chairs. When I finally was situated to start signing, I was overwhelmed with the number of people lined up to have their books signed.
Courtney, from B&N, and my bestie, April, helped keep me signing and moving the line along. They were experts at keeping things organized.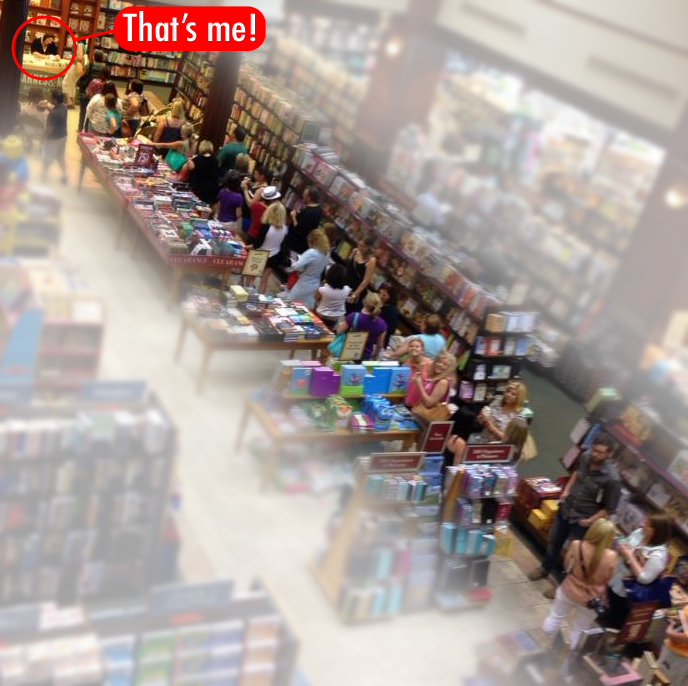 So many people came, that we sold out of books. (Sorry to those who didn't get one.) The day was amazing and I was completely overwhelmed by the folks who came to show their love and support. After an hour and a half of signing, the line had cleared. Courtney initiated a short Q&A session where we answered very serious questions, like "Is Tristan single?" (Thanks, Mom.) And then, we were done.
What a great way to celebrate a book that I'm so very proud of. When all was said and done, I signed over 90 books. Then, I did some hand stretches, exhaled, and walked next door for a sangria margarita. Thanks to everyone who made that day so special!